Posted on May 29, 2012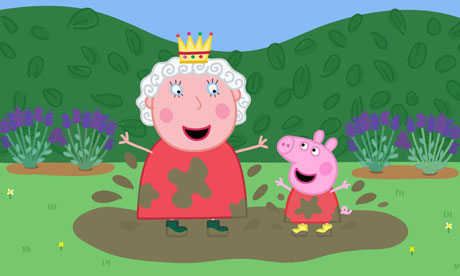 Scottish Greens say they are disappointed but not surprised their proposed contribution to tomorrow's Scottish Parliament debate on the Queen's jubilee has been rejected by the Presiding Officer.
An amendment to the government motion was put forward this afternoon by Patrick Harvie, Green MSP for Glasgow, expressing gratitude to Mrs Windsor for her sixty years of service but also affirming respect for all other public sector workers. [1]
The amendment called for a debate about the head of state in an independent Scotland.
The government motion lodged by Alex Salmond is supported by the Labour, Conservative and Liberal Democrat party leaders. [2]
Green MSP Patrick Harvie said:
"Our intention wasn't to rain on her majesty's parade but rather to spark debate about the sort of head of state Scotland should have in the future. Sticking to the hereditary principle in the twenty-first century is bound to seem bizarre to many Scots and it's a shame that won't be reflected.
"The other parties can doff their caps to royalty if they want. Greens are much more likely to break out bunting and cake for the low paid public sector workers and local activists who bring our communities together."
Notes
[1] The proposed Green amendment was: The parliament congratulates Elizabeth Windsor on the occasion of her diamond jubilee; expresses its gratitude for her exceptional public service and unwavering dedication to duty over sixty years in a changing world; affirms the respect that is held for all such dedicated public sector workers; and looks forward with anticipation to a broad debate about the best means of choosing a head of state in an independent Scotland.
[2] The government motion is here: http://scottish.parliament.uk/parliamentarybusiness
3 Comments
[...] liked Patrick Harvie's motion for debate The parliament congratulates Elizabeth Windsor on the occasion of her diamond jubilee; expresses [...]

Pingback by Sixty years? My dad's worked for longer than that | Edinburgh Eye — June 1, 2012 @ 2:48 pm

HAVING BEEN AN EARLY, POSSIBLY FOUNDING MEMBER OF FRIENDS OF THE EARTH, AND AS THE SON OF EUROPE'S POSSIBLY FIRST GREEN MEMBER OF A PARLIAMENT, IT IS WITH HUGE REGRET THAT i HAVE TO SAY THAT I AM UNABLE TO SUPPORT THE GREEN PARTY ANY FURTHER BECAUSE OF IT'S POSITION ON NATIONALISM AND MOTIONS SUCH AS THE ONE ABOVE.
THAT WE SHOULD BE DIVERTING OUR ATTENTION FROM THE MAIN ISSUES WITH SUCH POSITIONING FILLS ME WITH PROFOUND SADNESS. i AM SURE i AM NOT ALONE. THIS IS POLITICAL MADNESS.

Comment by MAXWELL MACLEOD — June 4, 2012 @ 10:59 pm

Sorry you don't agree with our position on the monarchy, but it's been democratically arrived at by the membership and that's why we expressed it. Wouldn't it be a shame if the views of people in Scotland who don't sign up to the displays of deference we've seen over the last weekend couldn't be heard in their Parliament?

As for nationalism, that's not our politics. We've explained elsewhere, including on this site, why we're in favour of independence but it's not for nationalist reasons. The current UK approach to Electricity Market Reform shows why it will always be tough to achieve urgent priorities like rapid deployment of renewables without the power to regulate the industry according to Scottish priorities.

But we're probably the only party in Scotland to acknowledge that there's a range of views amongst our members about independence, and we're quite comfortable with that diversity.